Open-source privacy first analytics with Plausible
We've integrated Plausible.io analytics into our platform, to give you clear easy and fast insights into everything what's happening in your website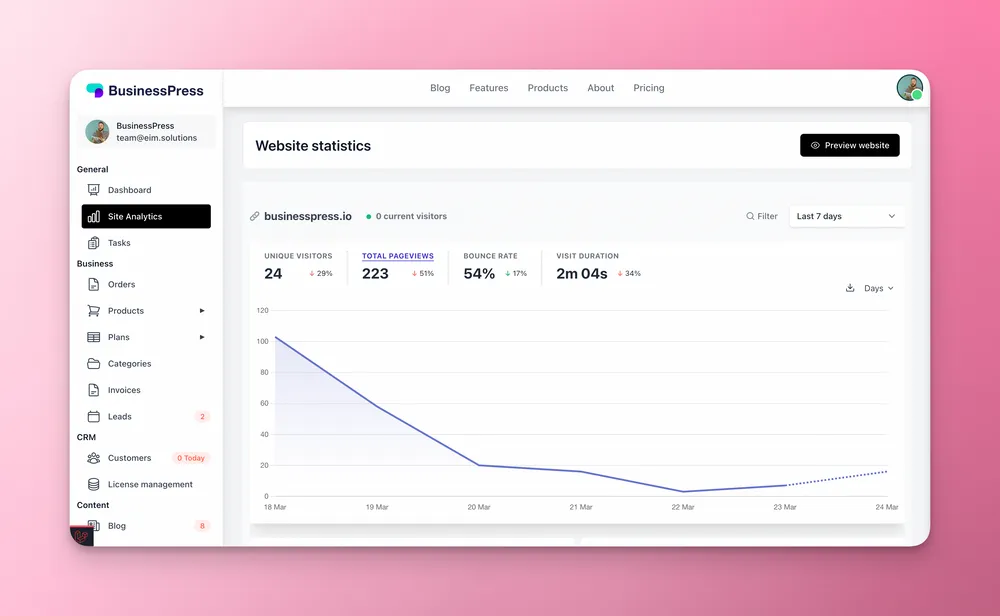 Privacy first analytics
Plausible does not collect any sensitive data, but focuses on key public and privacy-first approaches to gather data about users. You don't even need a coockie notice if you use Plausible!
100/100 Performance
Plausible has very small footprint (<2kb) and provides amazing performance and does not impact your Page speed and Core Web Vitals scores
Plausible vs Google Analytics
Plausible offers what Google analytics used to be. Single entry point to get all the necessary and relevant data about your website traffic.
Plausible has great capabilities for setting up straightforward
You own your data
When using Plausible analytics, you don't share your trafic data with any 3rd party vendors and it stays in your organization. Data is hosted in EU and complies with all necessary GDPR Requirements.

Compared to Google Analytics. If using Google Analytics you need to include cookie notice and all of you data lives in Google servers.
Plausible offers much better real time reports and data. From our personal testing it track more accurately, because it avoids ad-blockers and loads much faster and efficiently than Google Analytics